Variscite - Utah
click to enlarge: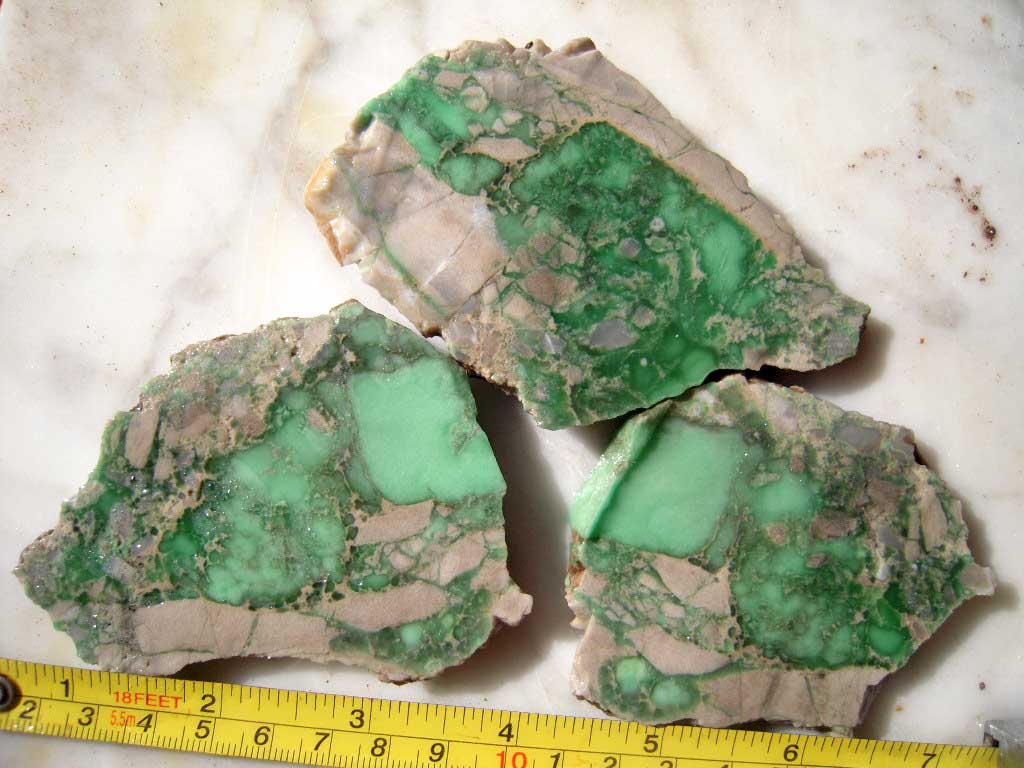 Variscite rough 9/1/11 - 01 - Rare, Super Nice Deep to Light Green slices with SUPER color and patterns! Gem or Collector grade - Great potential.
about 6.3 mm thick - 170 gram total weight - $18.00 SOLD
PLUS SMALL FLAT RATE BOX SHIPPING

You are bidding on Beautiful Green Variscite from Utah
Variscite is only found in Utah, Nevada, Arkansas, Bolivia, and Australia. It is formed by the infiltration of phosphatic waters into aluminous-rich rock, usually feldspar-rich igneous rocks. Variscite bears a wonderful resemblance to turquoise in texture and opacity, but is a more beautiful green color rather than blue and blue-green. The color ranges from light green to deep emerald greens often with excellent patterns. The luster on the rough fracture surface is matte and has a hardness of about 4 to 5. Variscite cuts and polishes just like turquoise; in my opinion better. Cut stones usually value between $.50/ct to $5.00/ct. I received a good deal on this material and am passing on the savings to you. This material is very rare and the land it is on is owned by the railroad and not open to the public. I also just happen to know that it is pretty well dig out, so the value on this highly desirable stone is going to go up and up. Get it while you can.