Priday Thunder Egg - Oregon
click to enlarge: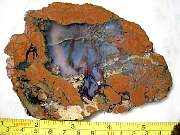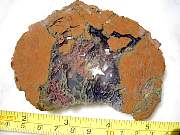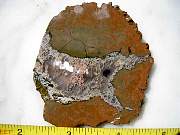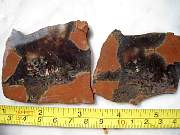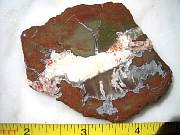 Priday Plume rough 9/1/11 - 01 - I'm too tired to list these separate. Besides they should all go to someone serious about polishing them. Look at the additional pictures. These are 6 very nice slabs. This is a great deal.

There are a total of 6 slabs. The first one is LARGE at 5 inches across and has one little plume plus a lot of colorfully beautiful moss and agate. The next is smaller but still respectable at almost 4 inches across. Next is a very nice little one at just under 3" with lovely moss and opal. The next (two) are dark background agate with clusters of classic plume like an underwater scene (see close-ups) these are thinner at .15 inches - these are the same rough the round dollar sized priday cab I have for sale was cut from. The last is a classic beauty with bright pink-ish plumes agate, moss plumes and opal. Wow! All but the two thinner slices are about .22 inches thick.
300 grams - 10.6 ounces
Bargain ALERT: >>> $50.00
PLUS SMALL FLAT RATE BOX SHIPPING SOLD

You are bidding on Priday Plume Thunder Egg. This is OLD STOCK material. I recently bought a parcel of old rough and slabs form the old Priday plume beds that have long ago been dug out. Very rare material. Get it while you can.