Laguna & Coyamito Agate - Mexico
click to enlarge: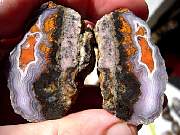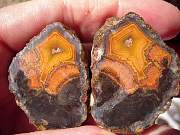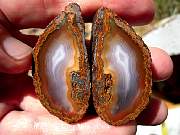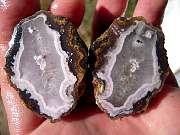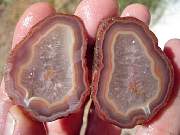 5 Beautiful, Flawless cut matched Coyamito Agate pairs. These are getting pretty rare now.
PLUS: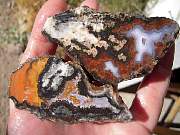 2 Beautiful, Flawless cut Laguna Agate halves
You get all the above; 12 pieces total. The group pictures show size and shapes. These are very nice small collector grade pieces that just need to be polished. I'd been saving them to do just that but I have to let someone else do it to these... :) I feel these are worth double my asking price.
Coyamito & Laguna Agate rough 9/1/11 - 01
1 pound, 8.4 ounces - 690 gram total weight - $50.00
PLUS SMALL FLAT RATE BOX SHIPPING SOLD

Beautiful Laguna Agate rough. Super Classic Stuff. I'm sure you will enjoy it.

Beautiful Coyamito Agate. A Relative of the Laguna Agate - these come from a Ranch in Mexico about 40 miles from the famous Laguna agate mines. These have already become very sought after by collectors and they come in a dizzying array of colors and patterns sometimes with pseudomorphs, crystals and sometimes the illusive iris agate. They are quite expensive and there is a rumor the price is going up by next year. Wonderful agates - I love them.