click a picture to enlarge: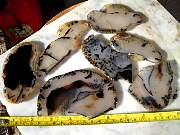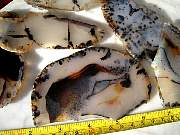 Classic Montana Agate - USA
click to enlarge:


Montana Agate rough 8/20 - 01 - Beautiful Selection of slices for cabbing showing great potential! Very Nice.
about 4 mm thick - 9 ounce total weight - $20.00 PLUS SMALL FLAT RATE BOX SHIPPING

You are bidding on Beautiful Montana Agate. This is the very popular Montana Agate. It is a new material for me. Very Pretty material with with beautiful patterns and transparency. Super nice stuff. I'm sure you'll enjoy it.